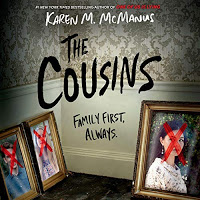 The Cousins by Karen M. MacManus fulfilled the
category "Book with a
Family Tree" for the PopSugar 2021 Reading Challenge. This suspense novel contains
a family tree depicting the Story family from grandparents, Abraham and Mildred
to siblings Adam, Anders, Allison, and Archer to the cousins Milly, Aubrey, and
Jonah.
I chose the story from a list of suggestions on the
PopSugar Facebook page. The Royal We is on my list, but I read Red,
White, and Royal Blue and Queen of Nothing. I didn't want to overdo the royalty
thing.
I
love a good suspense book. And this novel had a little suspense… It's written
by the same author as One of Us is Lying. Sometimes YA books don't
translate well into adult categories, like suspense. I'm not saying it wasn't a
great story. It was well-written and interesting, just not nail-biting and
unputdownable. (Is that a word?)
In the novel, three cousins are invited to their
grandmother's resort on
a semi-private island near Martha's Vineyard. None of the teens have ever met
the woman. When their parents were teens, the grandmother threw them out of the
house. She never spoke to any of her four children again. Each parent has had difficulties
since being thrown to the wolves. They all hope for an explanation and perhaps
an inheritance. So they send their children (three in total) to the resort to
work.
The kids spend the summer uncovering what happened when
their parents were young adults. Along the way, they find one of them is lying
(see what I did there) and discover their long-lost uncle in disguise. The book
had some impressive twists and ended on a great note.
What
else can I say about this title? It was a good read, but not overly wonderful.
It didn't have any issues or events that triggered me in any way. Except the
youngins drinking, but kids will do that unsupervised at a resort. There were
tons of teen angst, some clue following, too many questions that no one pushed
for answers, and a bit of romance. The book switched around from the three
cousins' points of view for each section. Great for clue finding and when one
was in trouble. Still, it was all kinda beige.
May
I also add, names are important. Most authors spend a chunk of time selecting
character names. Having five characters with the same first letter in their
name was confusing and annoying. It's hard to keep track of people when names
are blurred by similarity. Perhaps she did this on purpose to muddy the waters,
but in a mystery, I like my suspects to be distinct for the reader.
I'd
recommend this book for younger readers—teens, mostly. Adults who love YA as I
do might feel a little empty at the end. Nonetheless…
I give The Cousins by Karen M. MacManus Four Oversized
Watches.