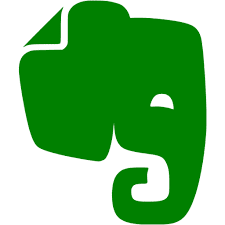 For January and February, I'll be following my same
plan from last year. I'm
starting the year off with organizing apps (Evernote, Airtable, and OneNote) to
get ready for 2021 writing goals. Like last year's Keep, we start with notes.
Evernote is an organizational, note-taking app. It's cloud-based and can sync
with different devices as needed. With Evernote, users can create virtual
notebooks to organize just about anything. In each notebook, users can make
lists, add photos, or have large sections of text. Users can clip webpages, set
reminders, and tag notes for easy searches. There are some great templates such
as Gratitude Journal, Story Dashboard, Novel Plotting, and 50 more. It also
syncs with other apps such as Gmail, Outlook mail, and Google Drive.
The app is designed for personal, creative, and
business use. Perfect for writers who need all three. Users don't need to have three
accounts to access the app for each category. The basic plan (free version)
starts users off with 250 notebooks and 100,000 notes. Individual notes
can be up to 25 MB, and with an upload limit of 60 MB of data per month.
There are a few levels of membership. It's available for free with
limited storage and sharing ability. It will only sync across two devices and
is not available offline without signing up for premium or a business account.
With the Premium account, users get 200 MB note sizes and up to 10 GB of
storage and unlimited device sync. Notebooks are available offline. Premium is
$8 a month if you pay monthly, but $5.83 a month if you pay for the year. (So,
approximately $70 a year.) A business account which is $15 and $12.50
respectively gives users the same 200 MB note size, but storage goes up to 24
GB (and more can be purchased). Again, it allows an unlimited number of devices
to sync. It also gives team management options and shared spaces for work.
Basically,
Evernote is Google Keep's
big brother (though I will always love Keep.) It does not have the cute post-it
note format that other note keeper apps have. It lists items by notebook, then
by note. If you don't need the bells and whistles of index cards, Evernote
might be right for you.