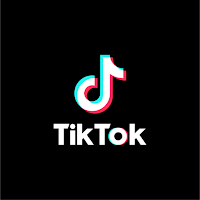 TikTok is a video-sharing platform. It's used by teens
mainly. In the past few months, the audience has grown by leaps and bounds.
This app evolved from a kid's
app called Musical.ly where kids lip-synced or sang music. Now TikTok is one of
the most popular apps for social media sharing. It might just be the best place
to promote your book. It's free and available on all platforms.
The app is easy to use. Create a new account and be
conscious of what you select for your username. Create something that goes with
your brand. If you need to change your name, tap on the icon on the bottom
right. Keep your account public for discoverability. Private accounts will not
generate sales. Once you have everything set up, start making and viewing
videos.
The app will add popular vids to your feed. Using the
icons on the right you can like them (click the heart) or tell the app you don't enjoy them (click the Arrow
button and press Not Interested). Follow Tiktokers by clicking on their name or
their avatar. Once you follow someone, you can see all their videos by pressing
the Following option at the top of the screen. You can comment on content, use
hashtags, and tag other users.
But we are on TikTok to create media, not just watch!
All the elements needed to make new content come with
the app. Press the Plus sign at the bottom of the screen and give the app
permissions to use your camera (recording video and audio and access to your
photos, media, and files). Press the big red button to record yourself. Taping
the button starts recording, but holding the button down allows users to record
clips and splice them together to create a video. Click Upload to add still
pictures instead of video. Change the length of the vid by clicking the 3m 60s
or 15s icons.
Add more elements to your video with Effects—way too many to go
over. Except for Green Screen which supplies a background behind you. Along the
side are more ways to alter your video. Speed can speed up or slow down the
vid. Beauty adds a "pretty"
filter to make skin clearer and eyes sharper. Filters work the same as on
Instagram. Time can help you do hands-free by counting down and auto-starting
the recording.
At the top of the screen is the option to add sounds. Select
from a wide library of music and sound effects. You can sort through the
Discovery listing or Search for specific music. Videos can be up to three
minutes long but are usually small snippets similar to its predecessor
Musical.ly or the old short-vid app, Vine.
Why should authors be on TikTok?
It's one of the most popular
apps available right now. It's also very much populated by teens. If you write
seasoned romance, your audience might not be there. It's the perfect marketing
tool, much easier than YouTube or Facebook Live for adding quick, cute
marketing videos. The audience for the app is huge, honestly huge! Readers can
find you and your videos quickly and easily. Also, with a public profile, new
readers can discover you if you hit the right hashtags and interests for them.
Funny videos sell well. Also showcasing your pet can help. Do a flashy, cool
15s videos about your new release or a live cover reveal. Let this
video-sharing app work for you.
Take time to play with the app before you get
too posty. I would recommend finding a teenager to assist you with the trends
(what not to do) and the special effects. I had my own expert consultant in my
seventeen-year-old who helped me write this blog post. (About 90% is her words
and ideas. Thank you, my Oldest!)